PROFESSIONAL TRAILER SERVICES 
Get expert trailer services to keep you safe and ensure a smooth ride
Did you know we repair and build trailers of all types, including toy haulers and utility trailers for commercial use?
Some of our clients include the Vancouver School District, Kona Ice and Senior Center Living Transport.
PRO Trailer Services
14 Point Inspection
Appliance Repair & Replacement
Axle Inspection & Replacement
Custom Bumpers & Fabrication
Custom Metal & Fiberglass Fabrication
Custom Painting & MFG Color Matching
Decal Replacement
Electrical System Repair & Replacement
Floor Repair & Replacement
Hitches & Tow Packages Installation
Hydraulic maintenance & Repair
HVAC Repair & Replacement
Lighting System Repair & Upgrades
OEM Replacement Parts & Service
Plumbing Repair & Replacement
Pre-Purchase Inspection & Advising
Preventative Maintenance
Wheel Bearing Re-Pack
Water System Repair & Replacement
Wheels, Brakes & Suspension
Call today or drop us a line
or fill out the form below to get in touch
Trailer Service Special offer!
50% OFF - only $97.50
14 Point Inspection (Value $195.00)
Axle Condition & Alignment, Batteries Load Test, Brakes, Electrical System, Fire Ext., Genset, Interior & Exterior Lights, Monitor Panel, Power Converter, PPG (Propane) Detector, Roof, Tire Inspection, Wheel Alignment, Wheel Bearings

Good thru January 31, 2022
Call for an appointment (541) 388-5448
*Available on a first-come basis and limited to two (2) appointments per day.
safe handling practices
To meet safe handling practices, we adhere to the following protocols
Masks and gloves will be worn when we step inside your vehicle
Any interiors we have touched will be wiped down with commercial grade disinfectants before your trailer is returned to you
We may be able to pick up and deliver your vehicle. Call for details
I had them install a Blue Ox tow bar and a SMI break system in my towed vehicle. They performed the work expeditiously and were pleasant. They were available for questions about the system after the installation.
The RV experts
Click here to view our full range of RV and motor coach services that will keep your wheels rolling
trailer specialists
New, old or custom?  Get professional maintenance, and services that delivers a smooth drive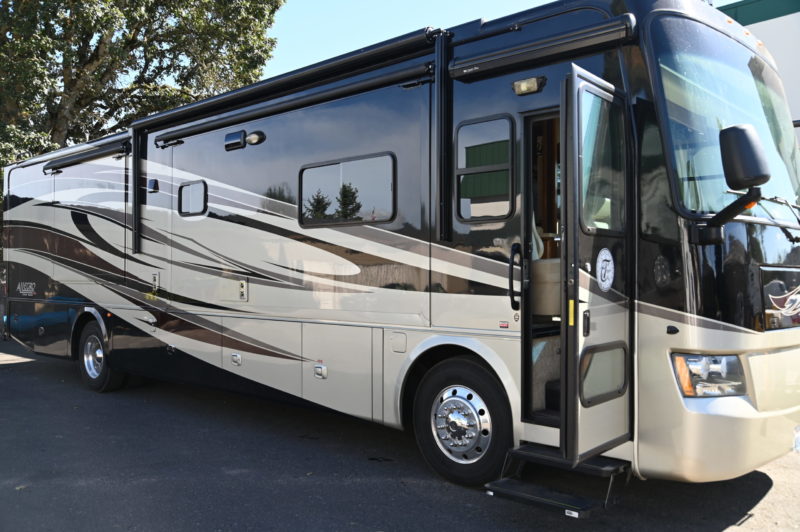 Collision Repair
Get your insurance claim handled by a caring and professional team who will get you back on the road in no time.
Save BIG on Winterization now!
Get your Winterization & FREE 10 Point Inspection. Only $95
72% off  -  A $349 Value - Now thru 1.31.22
Plus FREE De-Winterization in Spring

Winterizing should be done every year and protect your vehicle when cold weather strikes. One customer skipped a year and it cost him $5,000 in repairs. FREE 10 Point Inspection includes Roof Inspection (critical), Front cap seam inspection, Rear cap seam inspection, Roof appliance seams inspection, Siding sealant inspection for body of RV, Axle alignment inspection, Battery load test, Charging system test, Slide room operation, and Leveling system operation. 
I will start with thank you. RV PRO is rare find. This company has taken great care of me every time. I never spend alot but, i get treated like I have. Iif your thinking about trying these guys, do so – you will pleased.
62980 Boyd Acres Road, Bend OR 97701
Mon-Fri 8 am–5 pm  Sat-Sun Closed
418 Repass Road, Vancouver, WA  98665-8300
Mon-Fri 8AM–4PM, Sat-Sun Closed
Telephone
(541) 388-5448